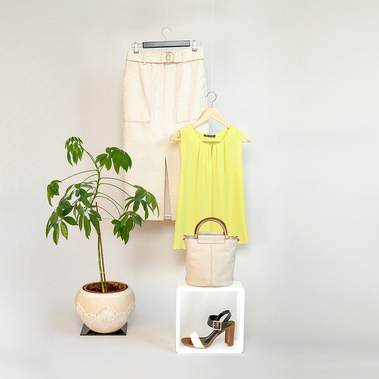 Creative Apparel Photography
Work with me to clarify your business style and to give your brand instant recognition through stunning photography.
To create groups of clothing items I usually use a large back drop and have perfected various styles and techniques to complete a look that we can discuss prior to the shoot.
To discuss your vision, please contact me for an accurate quote as you may need a variety of creative and product shots.
Booking for a whole day 9am - 6pm £349
Booking for half a day 9am - 1pm £199
Grouping or Creative styling of clothes £65 per image
This is dependent on how many shots you require and the complexity of styling for each image.
All retouching/editing is included within the price.
Do please get in touch for an accurate quote.

Invisible mannequin and Product Photography on white background
I have a woman's mannequin to present clothes which gives a crystal clear image for a customer to interpret. I remove the mannequin in retouching so that the garment only is visible.
I can also hang or lay clothes to give a different feel to your product.
Whilst you can get by with taking your own photos, outsourcing this important task is key to getting your business photos looking consistent and professional.
The drop in for the back of the garment requires an editing process which is included in the price.
All garments are retouched and edited to a white/transparent background, and colour matched to item. This is included in the price.
Prices
1 single product shot £65 per image
2-4 single product shots £45 per image
5-12 single product shots £35 per image
13-49 single product shots £30 per image
Do please get in touch for an accurate quote